Are you in search of the ultimate Minecraft server hosting platform? Look no further than Shockbyte! This review will deeply dive into what makes Shockbyte the top choice for Minecraft enthusiasts. We'll explore its features such as the user-friendly control panel, instant server setup, mod and plugin support, and 24/7 customer support. You'll also learn about Shockbyte's pricing plans, including the survival, skyblock, and bedrock plans.
We'll delve into the performance and reliability of Shockbyte hosting, covering topics like up-time guarantees, server location, and network speed. Additionally, we'll examine Shockbyte's security measures, such as DDoS protection and automatic backups. We'll consider user reviews, opinions about Shockbyte hosting, and frequently asked questions to provide a comprehensive review.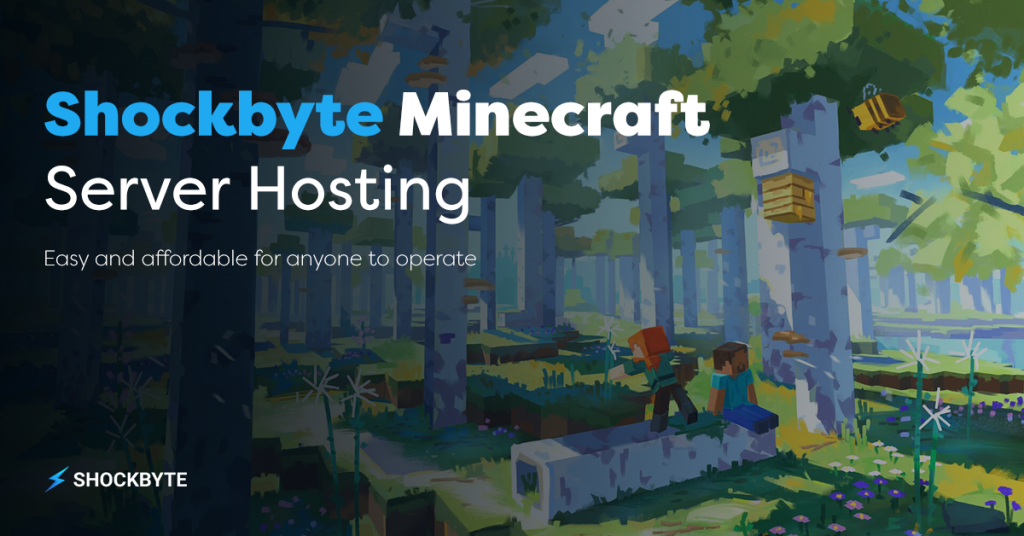 Shockbyte Minecraft Server Review, What you need to know.
Shockbyte Minecraft Hosting is a powerful and user-friendly platform that offers reliable server hosting for Minecraft enthusiasts. With its seamless server setup, user-friendly control panel, and affordable plans, Shockbyte ensures an enjoyable player experience. Choose Shockbyte for the best Minecraft server hosting.
Brief history and background
Shockbyte, a well-established Australian company in the gaming community, has been providing top-notch Minecraft server hosting since its establishment. With a strong player base and extensive experience in Minecraft server hosting, Shockbyte is trusted by thousands of Minecraft enthusiasts.
Features of Shockbyte Minecraft Hosting
Shockbyte's Minecraft hosting offers a range of impressive features that make it stand out from the competition. With an intuitive control panel, managing your Minecraft server becomes a breeze. The efficient provisioning process ensures instant server setup, allowing you to dive right into the game. Shockbyte also supports mod and plugin customization, allowing you to create a unique gaming experience. With 24/7 customer support, you can rest assured that any server-related issues will be promptly addressed. Shockbyte's hosting plans include unlimited SSD storage, providing ample space for your expansive Minecraft world. Additionally, Shockbyte supports Sponge, a popular Minecraft server version, giving you even more flexibility and options for your gameplay.
User-friendly control panel
Manage your Minecraft server effortlessly with Shockbyte's user-friendly control panel. Designed with beginners in mind, the intuitive interface allows you to configure server settings and plugins easily. Stay informed about your server's performance with access to important metrics and real-time logs. With Shockbyte's control panel, even those new to Minecraft hosting can easily set up and manage their server, including integrating free MySQL databases. Take full control of your gaming experience and make informed decisions with Shockbyte's user-friendly control panel.
Instant server setup
With Shockbyte's efficient provisioning system, you can get your Minecraft server up and running instantly. Say goodbye to waiting times and start playing on your server right away. Experience minimal downtime and maximum uptime with Shockbyte's instant server activation. No more delays, just a quick and hassle-free setup. Start enjoying your Minecraft world in no time, thanks to Shockbyte's instant server setup.
Mod and plugin support
Enhance your Minecraft gameplay with Shockbyte's extensive support for mods and plugins. With their user-friendly interface, installing and managing mods and plugins is a breeze. You can explore various options to customize your Minecraft server experience and add exciting features. From endless possibilities to new gameplay experiences, Shockbyte's mod and plugin support takes your Minecraft server to the next level. If you have a very specific plugin or mod that doesn't have a 1-click install, you can find tutorials on Shockbyte's website that will teach you how to install it as a custom JAR.
24/7 customer support
When it comes to support, Shockbyte has got you covered. Their dedicated customer support team, shockbyte's support team, is available round-the-clock to assist you with any server issues. Whether you need help with setup, troubleshooting, or general inquiries, their knowledgeable support agents are ready to provide prompt and reliable assistance. Please take advantage of their commitment to ensuring a smooth-running Minecraft server, and rely on Shockbyte's support team to help you make informed decisions and keep your gameplay uninterrupted.
Shockbyte offers an array of affordable pricing plans for Minecraft server hosting, ensuring that there is something for every budget. With these competitively priced plans, you can get the best value for your money. Shockbyte caters to different needs and budgets, allowing you to find a plan that suits your specific requirements. Choose from their variety of budget-friendly options and make an informed decision for your Minecraft server hosting needs. Shockbyte offers twelve different plans, including three premium options named "Spartan," "Zeus," and "Titan." All plans include a 100% uptime guarantee, protection against DDoS attacks, 24/7 support, and a free subdomain.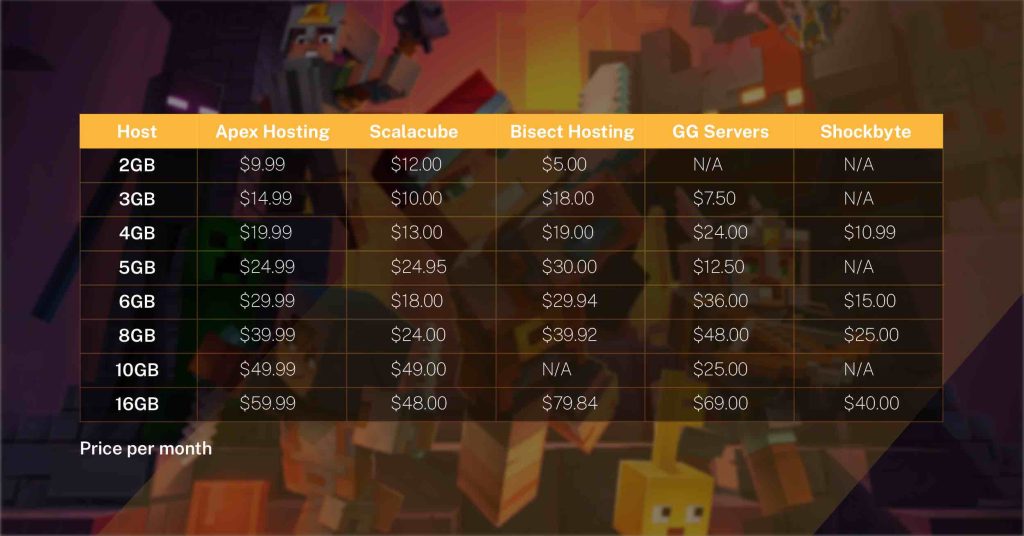 Survival plan
If you're a Minecraft player searching for a reliable and affordable server, Shockbyte's Survival plan is the perfect choice. This plan offers unlimited SSD storage and bandwidth, ensuring you have all the resources you need for your gameplay. You can enjoy smooth and lag-free gaming sessions with a generous amount of RAM at your disposal. Plus, Shockbyte's powerful hardware and data centres provide optimal performance. Create your own survival Minecraft world with ease using Shockbyte's Survival plan.
Skyblock plan
Experience the popular Skyblock game mode with Shockbyte's Skyblock plan. The plan offers fast and reliable Minecraft server hosting and unlimited SSD storage and bandwidth. With access to Shockbyte's powerful hardware and data centers, your Skyblock experience will be seamless. Start your own Skyblock adventure with Shockbyte's reliable and feature-rich hosting plan. Explore the endless possibilities of the Skyblock game mode and create your unique Minecraft world. Trust in Shockbyte to provide the perfect hosting solution for your Skyblock needs.
Bedrock plan
The Bedrock plan provided by Shockbyte is an excellent choice for Minecraft players who want a server that offers cross-platform compatibility. With this plan, players on different devices can connect and play together seamlessly. In addition to that, Shockbyte's Bedrock plan also includes DDoS protection and automatic daily backups to ensure the safety and security of your server. It offers full FTP access, allowing for easy modification of server files. The 24/7 customer support team is always available to assist with any issues that may arise. Affordable pricing and customizable server options make Shockbyte's Bedrock plan a top choice for Minecraft enthusiasts looking to create their own server.
Shockbyte Performance and Reliability
Shockbyte ensures top-notch performance and reliability for game servers, including Minecraft servers. With its server performance, players can enjoy lag-free gameplay and seamless transitions between multiple game modes like Australia, ARK, Rust, and vanilla Minecraft. The uptime guarantee ensures that the server is online and accessible to players without any interruptions. Shockbyte's customer support is available 24/7, providing prompt assistance with any issues that may arise. Customization options allow players to personalize their gaming experience with plugins, mods, and custom JAR files. Additionally, Shockbyte offers affordable pricing plans with different options and payment methods.
Uptime guarantee
Shockbyte ensures an up-time guarantee of 99.9% for uninterrupted accessibility to your Minecraft server. Their robust infrastructure and network contribute to minimal downtime, allowing players to maximize their gaming experience. With Shockbyte's up-time guarantee, you can focus on playing without worrying about server availability. This reliability is essential for seamless gameplay, ensuring you and your friends can enjoy Minecraft without interruptions. Trust Shockbyte to keep your server online and accessible at all times.
Server location and network speed
Shockbyte's network infrastructure is designed to deliver a smooth gaming experience. With multiple data centres strategically located worldwide, Shockbyte ensures optimal server performance for players. Players can enjoy low ping and reduced lag during gameplay by minimising latency and providing fast network speeds. Additionally, players can choose a server location closest to their geographical location, including Singapore. This ensures a seamless gaming experience with minimal disruptions. Shockbyte's commitment to server location and network speed, including Singapore, highlights its dedication to providing the best possible gaming environment for Minecraft players.
Shockbyte Security Measures
Shockbyte prioritizes the security of their Minecraft servers by implementing a range of measures. They employ DDoS protection to safeguard against malicious attacks, ensuring uninterrupted gameplay. Automatic backups are performed regularly to protect player data, offering peace of mind. Shockbyte keeps its hosting environment secure and up-to-date with the latest security patches, protecting players from vulnerabilities. With these comprehensive security measures in place, players can confidently enjoy their Minecraft server, knowing that Shockbyte has their safety and protection in mind.
DDoS Protection
Shockbyte prioritizes the security of its Minecraft servers by utilizing robust DDoS protection measures. This ensures that players can enjoy uninterrupted gameplay without worrying about potential threats. Shockbyte actively monitors and mitigates DDoS attacks to maintain server stability, creating a secure environment for Minecraft servers. With the protection in place, players can focus solely on their gaming experience, knowing that Shockbyte has taken the necessary steps to safeguard against DDoS attacks.
Automatic backups
Shockbyte ensures the safety and security of Minecraft servers with its automatic backup feature. These backups are created regularly, protecting player data and providing quick recovery options in case of any issues. With automatic backups in place, players can have peace of mind knowing that their progress is continuously backed up, adding an extra layer of security. In the event of a mishap, Shockbyte's backup system allows for easy restoration to a previous state, ensuring uninterrupted gameplay.
User Reviews and Opinions about Shockbyte
Shockbyte has garnered good news and positive feedback from Minecraft server owners. Users have praised the reliable performance and uptime provided by Shockbyte. The excellent customer support offered by Shockbyte is frequently highlighted by many users. Server owners appreciate the user-friendly control panel and ease of use provided by Shockbyte. Furthermore, players value the affordability and quality of service offered by Shockbyte. Users can make informed decisions when choosing a Minecraft server hosting provider by considering user opinions.
Positive reviews and feedback
Minecraft server owners highly recommend Shockbyte for its top-notch hosting services. The responsive and knowledgeable support agents have earned praise from users. Server owners appreciate Shockbyte's powerful hardware and unlimited bandwidth. Many users find the setup process to be simple and straightforward. Positive reviews consistently highlight the excellent performance and reliability of Shockbyte servers. These positive reviews and feedback showcase Minecraft server owners' and users' satisfaction and confidence in Shockbyte's hosting capabilities.
Negative feedback and complaints
While Shockbyte has received overall positive feedback, some users have expressed concerns regarding occasional lag or performance issues. Additionally, a few users have reported experiencing downtime or server connectivity problems. Some users have also mentioned difficulties with certain customization options or plugins. Another point of contention is the occasionally slower response times from customer support. However, it's important to note that negative experiences do not represent all Shockbyte users. One feature that stands out about Shockbyte is its up-to-date Java Edition and the inclusion of a Java Version Switcher, which adds to its ease of use and appeal to Java developers.
Frequently Asked Questions about Shockbyte Minecraft Hosting
Is Shockbyte server hosting suitable for Minecraft? Are there any available Shockbyte promo codes? Where can I find a comprehensive review of Shockbyte? How does Shockbyte compare to other Minecraft server hosting providers? Does Shockbyte offer reliable customer support for technical issues?
Conclusion
To summarize, Shockbyte Minecraft Hosting offers a reliable and feature-packed solution for gamers looking to host their own Minecraft servers. With user-friendly control panels, instant server setup, and excellent customer support, Shockbyte ensures a smooth and hassle-free experience.
The pricing plans cater to different needs, whether you're into survival, skyblock, or bedrock gameplay. Performance and reliability are top-notch, with an up-time guarantee and fast network speeds. Security measures such as DDoS protection and automatic backups provide peace of mind. User reviews are mostly positive, highlighting the quality of service and performance. However, there are some negative feedback and complaints as well, emphasizing the need for continuous improvement.
Overall, Shockbyte is a solid choice for Minecraft server hosting in 2023.