Good ARK Servers – let's deep dive!
Welcome to the wonderful world of ARK: Survival Evolved! With a vast array of creatures to tame and explore, it's no wonder you're looking for the Top 5 ARK Server Hosting Providers 2024 to enhance your gameplay. But with so many options available, how do you know which one is right for you?
Don't worry; we've got you covered! In this comprehensive guide, we'll dive into the top ARK server hosting providers, compare pricing, and even discuss all the features and benefits of official versus private servers. Grab your gear, and let's get started on this adventure!
Key Takeaways
Explore the top 5 ARK server hosting providers and find a plan for your budget and gaming needs.

Customize your ARK server for an immersive experience, explore different maps & mods, and easily join good servers.

Maximize performance by investing in quality hardware, optimizing settings & choosing reliable providers with wide location coverage + community features & support options.
Top 5 ARK Server Hosting Providers 2024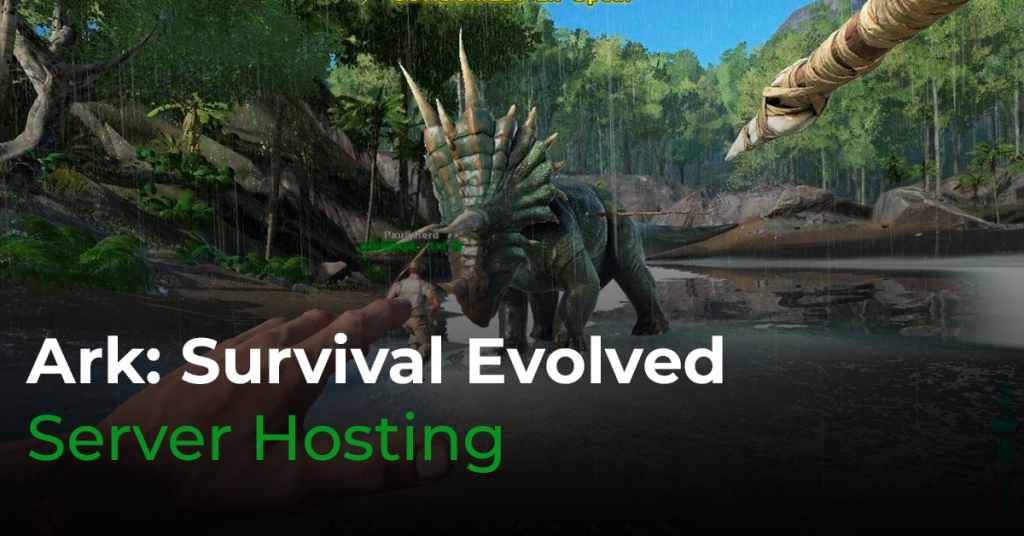 An immersive gaming experience hinges on choosing the right ARK server and game host here. To help you make the best choice, we've compiled a list of the top 5 best ARK server hosts and hosting providers:
Shockbyte

BisectHosting

Apex Hosting

GGServers

ScalaCube
Each provider offers unique features and benefits, ensuring you'll find the perfect fit for your gaming needs.
Shockbyte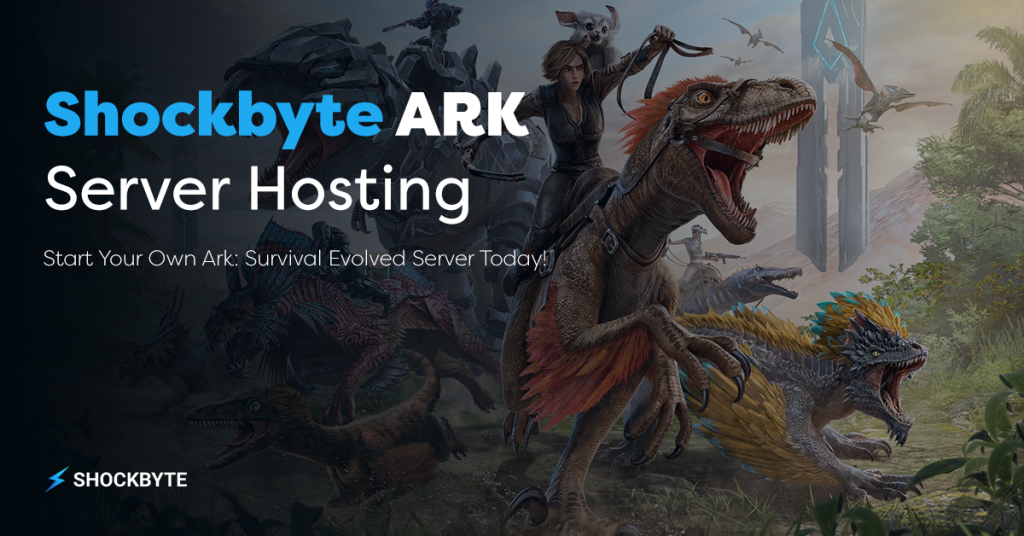 Shockbyte has become a popular choice for hosting ARK servers, thanks to its unbeatable features:
Unbeatable price

Instant server setup

User-friendly control panel

Server locations in Singapore and Australia, catering to a wide audience of gamers

Support for custom maps, mods, DLC, and expansion packs
With Shockbyte, managing your server is a breeze.
Shockbyte stands out with its 100% uptime guarantee, promising an uninterrupted gaming experience. Furthermore, their customer support staff is available seven days a week to assist you with any issues that may arise.
If you're looking for a powerful, feature-packed ARK server hosting provider, Shockbyte is an excellent choice.
BisectHosting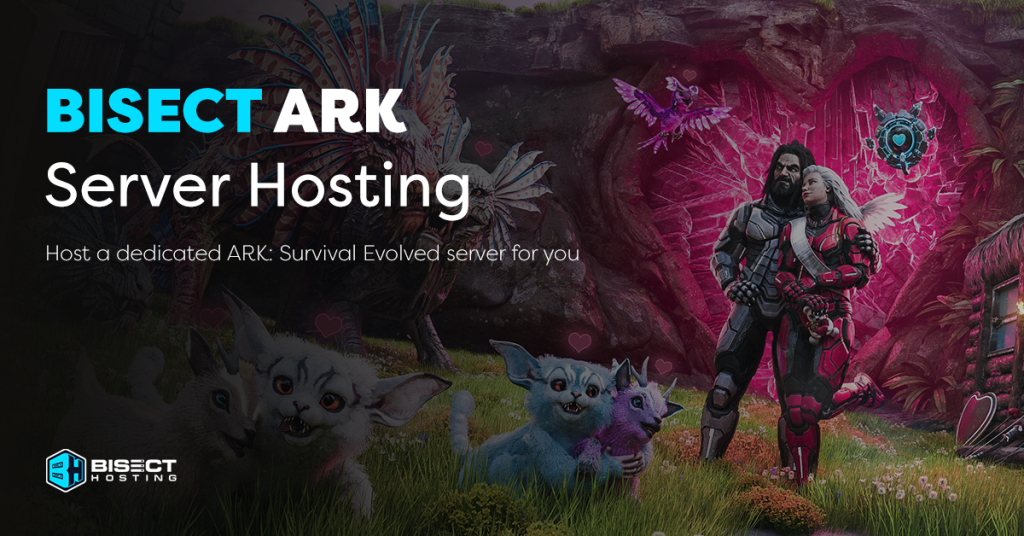 BisectHosting is another fantastic dedicated ARK server hosting provider, offering an easy-to-use server control front panel, powerful ARK cluster server capabilities, and support for multiple maps. Cluster support allows you to effortlessly transition between ARK worlds hosted on different servers, while the procedural maps are generated randomly based on settings defined by the admin.
BisectHosting, known for its convenience and versatility, is a favourite among ARK gamers seeking a seamless gaming experience. With its user-friendly control panel, ARK clustering, and support for multiple maps, BisectHosting guarantees a smooth and enjoyable gaming session.
Apex Hosting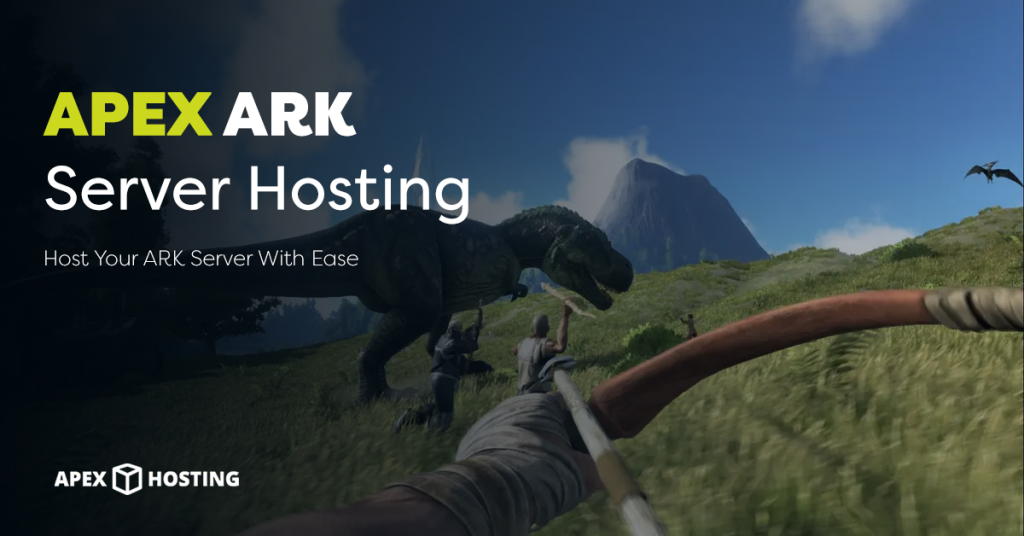 Apex Hosting stands out as a leading Ark hosting provider full of ark server hosting options with its automated backups, easy server configuration, and free sub-domain. Their top-notch customer support, available through ticketing, 24/7 live chat, and an extensive knowledge base, ensures that any issues are quickly resolved. With free Ark server hosting, you can enjoy a seamless gaming experience on top ark servers.
The impressive 99.9% uptime guarantee by Apex Hosting positions it as a reliable choice for gamers aiming for a stable and enjoyable ARK experience. Apex Hosting is a top contender for hosting your ARK server with a wide range of global server locations and powerful features.
GGServers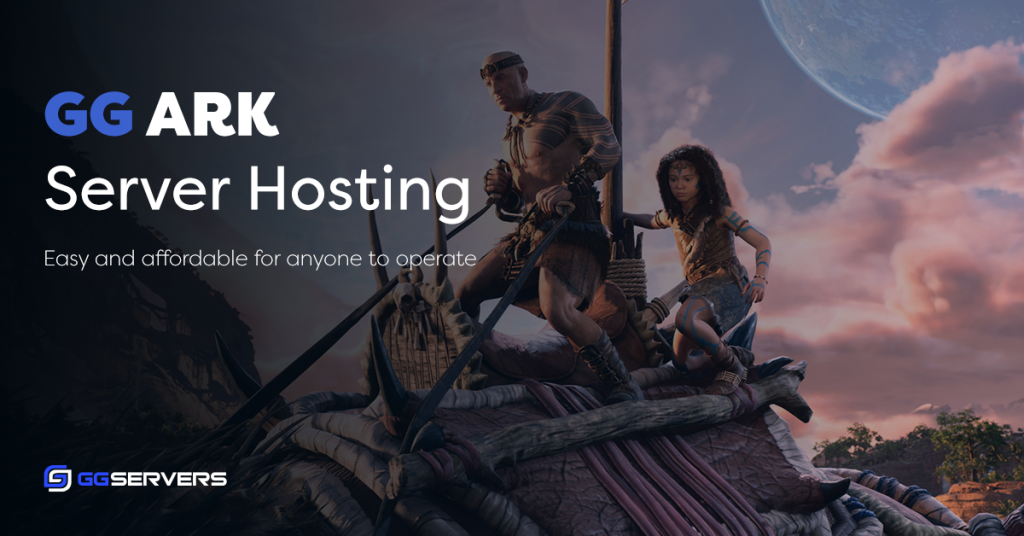 GGServers offers affordable ARK server hosting with a custom control panel, instant setup, and a wide range of Ark server host locations, ensuring a lag-free gaming experience. Their customized version of the Multicraft control panel, also known as the Ark server manager, boasts features such as instant plugin auto setups, automatic scan of logs and crashes, and Geyser AutoSetup.
While GGServers has received mostly positive customer reviews, some complaints about customer support and server issues have been reported. Before settling on GGServers for your ARK server hosting, consider these factors and do additional research:
Customer support quality

Server performance and reliability

Pricing and value for money

Server locations and latency
Nevertheless, their reasonable price, impressive features and server locations make them a strong contender in the ARK server hosting solutions market.
ScalaCube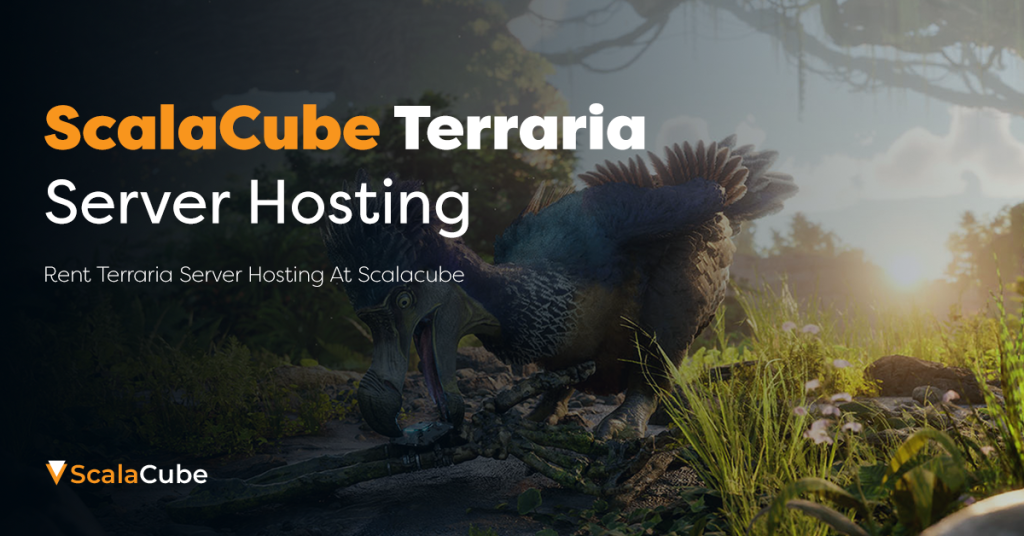 ScalaCube provides a comprehensive ARK hosting solution with the latest version of the following features:
Instant setup

DDoS protection

24/7 uptime

Dedicated servers for other games
Their support team is available between 10 am and 10 pm GMT, and they also offer an online ticketing system and Discord live chat for assistance.
If you're looking for just a single click, well-rounded ARK server hosting provider that offers a variety of features and strong hardware infrastructure, ScalaCube is an excellent choice. With their wide range of full-game server hosting options and cutting-edge software tools, ScalaCube is a top choice for ARK server hosting.
Pricing Table Comparison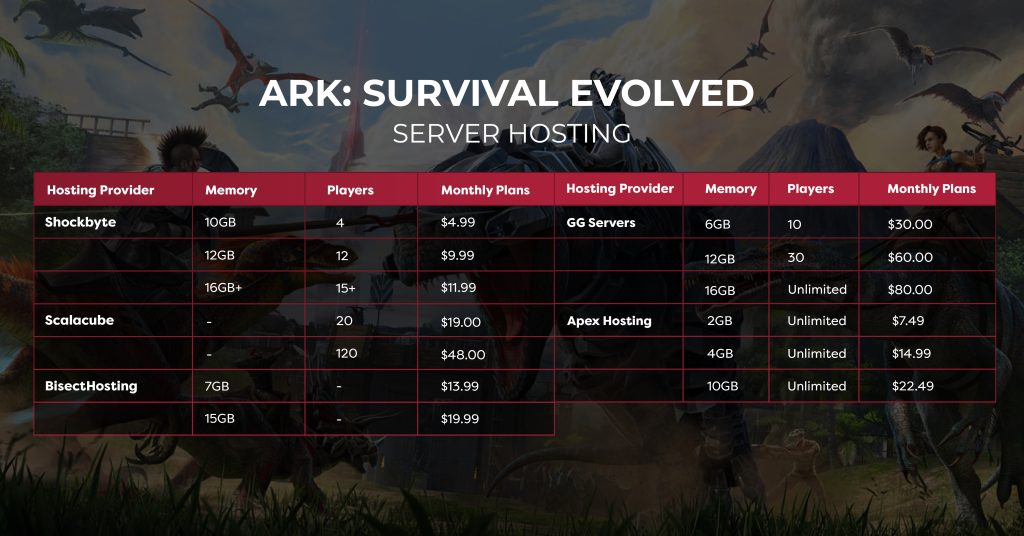 Having introduced the top 5 ARK server hosting providers, it's time to compare their pricing plans to determine the most suitable option for your budget and needs. The pricing for these providers ranges from:
$19/month for 20 players

$29/month for 40 players

$39/month for 60 players

$44/month for 80 players

$48/month for 120 players
Each plan offers a generous 5GB of RAM, an ultra-fast SSD drive, a choice of server location, and a powerful 3.8GHz CPU.
All hosting plans come with a 7-day money-back guarantee, giving you peace of mind and the opportunity to try out the service before fully committing. By comparing the costs and features of each hosting provider, you can make an informed decision and choose the best plan for your gaming needs.
Official ARK Servers vs. Private Servers
When choosing an ARK server, you should weigh the differences between official ARK servers and private survival servers. Official ARK servers are operated by Studio Wildcard, the developer of ARK: Survival Evolved, and offer a high-population gaming experience with various game modes and occasions, such as beginner servers and ARKpocalypse servers.
Private servers, on the other hand, provide a more personalized and controlled gaming experience. Running your ARK server allows your servers, friends, or clan to play together without disturbances from outsiders or strict admins. The choice between official and private servers ultimately depends on your preferences and desired gameplay experience.
Customizing Your ARK Server
Tailoring your ARK server to your preferences and playstyle can significantly enrich your gameplay and deliver a unique experience. Most ARK server hosting providers offer a user-friendly control panel that allows you to easily configure various game settings,, mods, and plugins.
To install mods on your ARK server, add the Steam Workshop Mod IDs to your server's ark.properties file for a quick and simple installation process. With only a few clicks and a little bit of creativity and customization, you can craft an ARK server that perfectly suits your gaming needs.
Best ARK Server Maps and Mods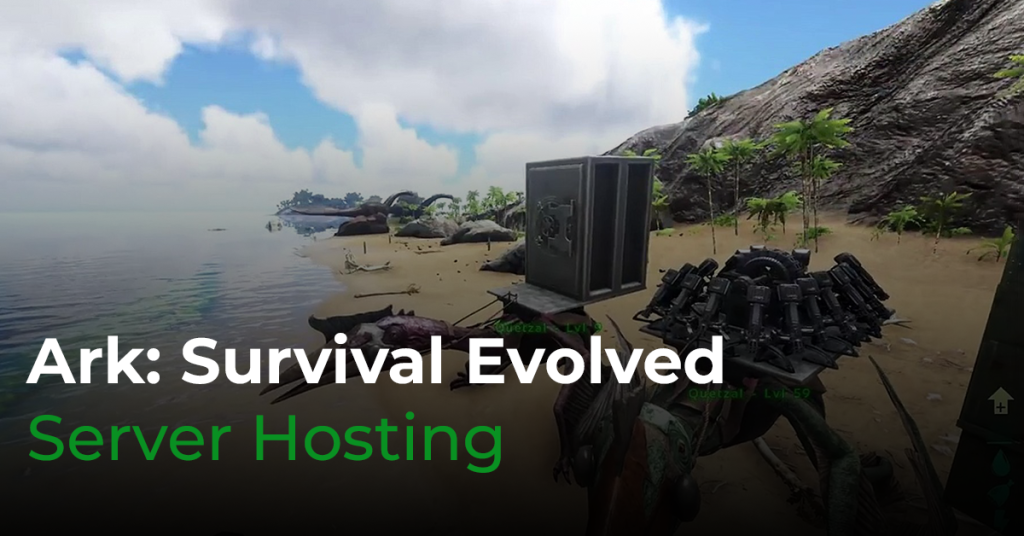 Exploring different server maps and mods can elevate your ARK gaming experience. Some popular maps official mods include The Center, Ragnarok, and Valguero, each offering unique environments and challenges for players to conquer.
In addition to maps, mods can bring endless entertainment and fun to your ARK server. Many hosting providers offer one-click mod installation, making adding new and exciting features to your game easy. You can create a truly immersive and personalized ARK experience by incorporating various maps and mods.
How to Join a Good ARK Server
It's simpler than you might expect to join a good ARK server. Here are all the tools and steps:
Launch the ARK game through Steam by searching for the game and clicking the "Play" button.

Once the game has launched, open the main menu.

Click on "Join ARK" or "Join Ark Server".
To add a server by entering its IP address and port number, follow these steps:
Select the "Favorites" or "Unofficial Servers" tab.

Input the server's IP address and port number.

Once you've entered the server details, click the "Join" button to connect and start playing.
Server Performance and Optimization
Optimal server performance and reduced lag are key to a seamless gaming experience. Several factors contribute to a smooth ARK experience, including:
Adequate hardware

Carefully coded mods

Optimized dino spawns

Regular server saves
To improve your server's performance, consider the following steps:
Invest in high-quality hardware.

Optimize your server settings.

Choose a hosting provider that offers powerful servers.

Look for a hosting provider with a wide range of server locations to minimize lag and ensure a smooth gaming experience for all players.
Following these steps can enhance your server's performance and provide a better gaming experience.
Community and Support
Community and support are vital considerations when choosing a good ARK server. A vibrant player base, responsive customer support, and helpful online resources all contribute to an enjoyable gaming experience.
When selecting an ARK server hosting provider, consider the support options available, such as live chat, email, or support tickets. Additionally, look for providers that offer community-focused features like web space for clan website development, shared admin controls, and mobile apps for server management away from your desktop. By prioritising community and support, you can ensure a fun and engaging ARK server rental experience.
Summary
In conclusion, finding the perfect ARK server requires careful consideration of factors like hosting providers, pricing, customization options, and community support. By exploring the various features and benefits offered by top ARK server hosting providers like Shockbyte, BisectHosting, Apex Hosting, GGServers, and ScalaCube, you can make an informed decision and choose the best ark server hosting solutions for your gaming needs. Remember to customize your server, explore different maps and mods, and prioritize community and support for a truly immersive and enjoyable ARK experience. Happy taming!
Frequently Asked Questions
How do I find a good server on ARK?
For a great ARK experience, browse Reddit for servers or use Topark and battle metrics to compare the best options based on location – whether you're looking for one just for you and your friends or to join a wider audience. Happy gaming!
What are beginner ARK servers?
Beginner ARK servers are a great way for new players to play Ark and get acquainted with the game without feeling intimidated by more experienced tribes. These servers offer unlimited players with an entry-level experience with various limitations and are regularly wiped clean to keep them in optimal condition.
How much does an ARK server cost?
Renting an Ark Survival Evolved server is affordable, with fees ranging from $15 to $30 a month, making it a great option for gaming.
What should I consider when choosing an ARK server hosting provider?
When choosing an ARK server hosting provider, ensure it offers features like a user-friendly control panel, a range of server locations, powerful server hardware, and responsive customer support to give you the best experience.
Can I customize my ARK server with mods and plugins?
Yes, you can easily customize and automatically update your ARK server with mods and plugins through many hosting providers that offer simple configurations and one-click installation.