The best CPU coolers can keep the temperature of your CPU under control during gaming and other CPU-intensive activities. With an excellent CPU cooler, you can enjoy an outstanding performance from your CPU without worrying about it overheating. You'll be able to play games longer and enjoy your computer for more extended periods without needing to worry about your CPU overheating.
There are many great reasons to upgrade a Ryzen 5 3600 CPU, and ensuring your system stays cool is one of them. Luckily, plenty of great CPU coolers are available to help keep your system running smoothly. But, in this blog post, we'll take a look at some of the best CPU coolers for the Ryzen 5 3600. We'll also discuss how they can help keep your system running in top condition.
If you're looking for a cooler compatible with Ryzen 5 3600, then be sure to check out our top six list below. These coolers provide excellent performance without breaking the bank, and they are sure to keep your processor running at its best.
At a Glance:
6 Best CPU Coolers for Ryzen 5 3600 You Can Get Today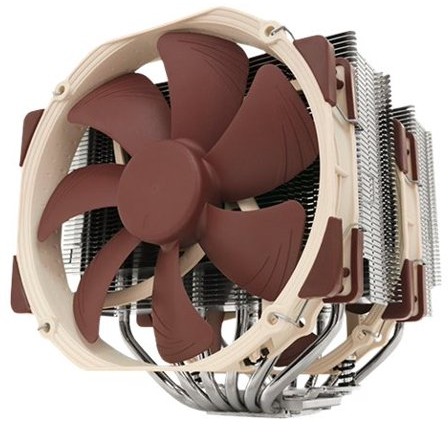 Noctua NH-D15
Best premium CPU Cooler for Ryzen 5 3600
SPECIFICATIONS
Brand | Noctua Cooling Method | Fan Noise level | 24.6 dB Max speed | 1500 rpm Compatible Devices | Desktop Material | Copper, aluminium & nickel plating
REASONS TO BUY
✓Include two highly optimized NF-A15 140mm fans
✓Significantly less Noise, Near to silence 
✓Compatible with both Intel and AMD CPUs
✓SecuFirm2 mounting system for easy installation
REASONS TO AVOID
✗Size little bit bigger
The NH-D15 is an excellent choice for almost any overclocking or gaming PC build. The NH-D15 provides superior cooling performance and low noise levels, contributing to a smooth gaming experience and a high frame rate, even in the most intense moments
Furthermore, This CPU cooler is a premium all-in-one CPU cooler designed with the latest Intel/AMD sockets. This cooler comes with two NF-A15 PWM 140mm fans specially designed for optimal performance and quiet operation.
Additionally, The Noctua NH-D15 uses the 4th generation SecuFirm2 mounting system to guarantee reliable contact pressure on memory DIMMS and LGA2011/LGA2066 socket types.
Moreover, the Noctua's cooler is the ultimate CPU cooler that uses two 140mm premium-grade professional grade fans for superior airflow and noise-dampening capability. It's lightweight yet compelling and offers low noise levels with minimum heat output for maximum system stability.
Bottom Line
The Noctua NH-D15 is a premium cooler that offers outstanding cooling performance and top-tier build quality. It's a perfect CPU cooler for Ryzen 5 3600.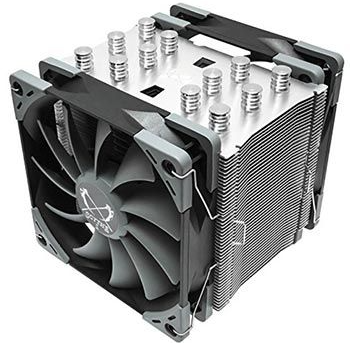 Scythe Mugen 5
Best Performance CPU Cooler for Ryzen 5 3600
SPECIFICATIONS
Brand | SCYTHE Cooling Method | Air Max speed | 1200 rpm Compatible Devices | Desktop Material | Metal Air Flow Capacity | 51.17 CFM
REASONS TO BUY
✓Secure and easy-to-install
✓Asymmetric design allows unrestricted access to the memory banks
✓6 x 6mm heatpipes ensure more excellent heat dissipation
✓The very low Noise level
REASONS TO AVOID
✗A little bit tricky in installation
Scythe's Mugen 5 Rev.B CPU Air Cooler is the best CPU cooler for Ryzen 5 3600 and 120mm single tower computer cases. It can also be used with Intel LGA1151 or AMD AM4/Ryzen motherboards to keep your processor running smoothly in any environment
The Scythe CPU Cooler has an aluminum base, copper heat pipes, and high-performance fans capable of circulating up to 51.17CFM of air at maximum speed. It also has a low noise profile which allows it to be used in low-noise environments such as HTPCs, office PCs, and multimedia PCs.
Because its compatibility with the Ryzen platform offers excellent overclocking potential. It maintains a lower temperature than most traditional air coolers.
Check our post on CPU Temperature Jumping Up And Down.
Bottom Line
Scythe Mugen 5 Rev.B is a CPU cooler rated as the best on the market for Ryzen 5 3600. It is highly recommended by many gaming communities who find it a quality product to purchase.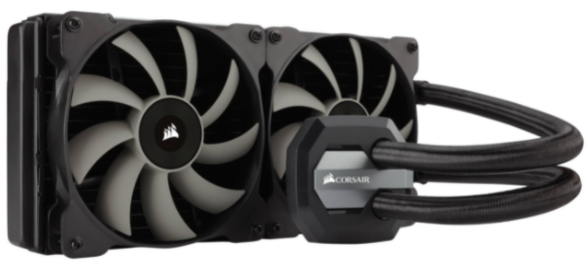 CORSAIR H100i v2 AIO
Best Liquid CPU Cooler for Ryzen 5 3600
SPECIFICATIONS
Brand | Corsair Cooling Method | Water Max speed | 2435 rpm Compatible Devices | Desktop Material | Aluminum with copper base Noise level | 24.6 dB Air Flow Capacity | 70.69 CFM
REASONS TO BUY
✓Customize RGB lighting
✓PWM fan-speed control software
✓High Rpm speed
REASONS TO AVOID
✗Noise is a little bit notable
CORSAIR Hydro Series H100i v2 is an excellent CPU cooler that combines superior cooling and noise reduction with a fully customizable RGB lighting experience.
Moreover, this cooler makes your build look stunning with vibrant LED lighting. The full spectrum can be set in three colors: red, blue, or white. It also includes options for single color settings, pulsating effects, and custom animations so you can make your build genuinely customizable to the needs of your game
Furthermore, the CPU cooler has an impressive 240mm radiator and dual 120mm PWM fans to reduce noise while maintaining high airflow. The 0dB cooling design provides more airflow to keep your CPU cool even under extreme load.
Bottom Line
You can enjoy the powerful cooling performance for a Ryzen 5 3600 in a sleek, compact design for outstanding efficiency with CORSAIR Liquid CPU Cooler, featuring the 240mm Radiator, Dual 120mm PWM Fans. Advanced RGB Lighting and Fan Software Control.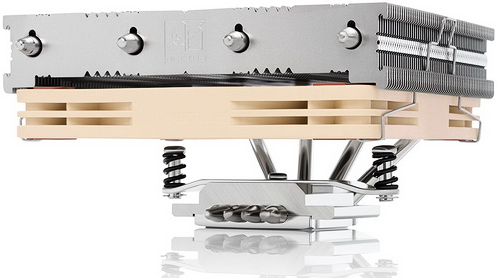 Noctua NH-L12S
Best Low Profile CPU Cooler for Ryzen 5 3600
SPECIFICATIONS
Brand | Noctua Cooling Method | Air Compatible Devices | Desktop Material | Copper, aluminum & nickel plating Noise level | 23.9 dB
REASONS TO BUY
✓Low-Noise Adaptor
✓PWM fan-speed control software
✓SecuFirm2 mounting system
✓Adjustable Clearance mode
REASONS TO AVOID
✗A little bit of vibration in extreme usage
The NH-L12S is a premium low-profile CPU cooler, and it is capable of keeping your CPU cool and quiet with a 120 mm PWM fan. Noctua's NH-L12S is the perfect cooler for Ryzen 5 3600. It provides the best cooling performance while also being small and lightweight enough to be used on a tiny mini-ITX build.
It has a maximum heat dissipation capacity of 300 W, making it ideal for underpowered systems or needing an extra bit of cooling headroom.
Typically, low-profile coolers are not as effective as their counterparts in cooling the CPU. But that is because the distance between the heat sink and the CPU's surface makes it hard for air to circulate. With the NH-L12S, Noctua has solved this problem by using curved surfaces for better heat dissipation.
Furthermore, this CPU cooler features an NF-A12x25 PWM high-performance fan, perfect for quiet and efficient air cooling. Additionally, It also comes with an NT-H1 Thermal compound that makes sure it will work efficiently even with overclocked processors.
The SecuFirm2 mounting system allows easy installation and compatibility with most current AMD and Intel sockets.
Check out our separate post for Best RAM for i5 9600K.
Bottom Line
Noctua NH-L12S CPU Cooler will allow you to keep your PC running smoothly while ensuring that it is compatible with any motherboard and, in most cases.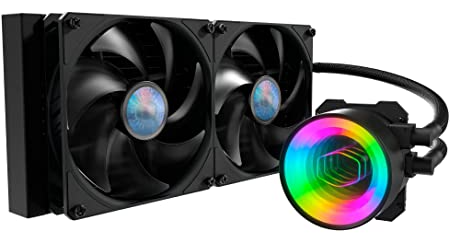 EVGA CLC All-In-One
Best All In One CPU Coller for Ryzen 5 3600
SPECIFICATIONS
Brand | EVGA Cooling Method | Water Compatible Devices | Desktop Material | Copper Wattage | 125 Noise level | 39.5 dB
REASONS TO BUY
✓280mm Dual Fan radiator
✓Software suite for monitoring
✓Customizable RGB lighting
REASONS TO AVOID
✗The software has some bugs
The EVGA CLC CPU Liquid Cooler is the perfect case for all gamers and overclocking enthusiasts who want to enjoy their favorite games with maximum performance. The unique RGB color and brilliant LEDs help boost the performance of any build.
There is no need to worry about overheating your delicate components such as a CPU or GPU because this liquid cooler cools them efficiently. It also features two attractive fan designs that increase air circulation inside your PC, which equates to improved performance and an impressive system lifespan
With a slim, compact design that doesn't take up much space, this all-in-one RGB CPU cooler is one of the most flexible and reliable on the market. Not only does it come in a sleek exterior, but it also provides the flexibility to be easily customized or even used as an external water cooling unit.
Also, check out our separate post if you want to know the difference between ARGB and RGB.
Bottom Line
Apart from the above features, it also can pump out massive amounts of air while still keeping your system quiet. It also has large intake vents optimized to ensure that it doesn't overheat and needs less airflow than other coolers on the market.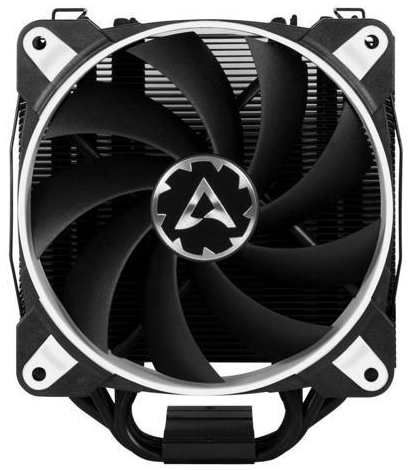 ARCTIC Freezer 34 eSports
Best Enthusiasts CPU Cooler for Ryzen 5 3600
SPECIFICATIONS
Brand | ARCTIC Cooling Method | Fan Compatible Devices | Desktop Material | Aluminium Voltage | 12 Volts Wattage | 210 watts Noise level | 24.4 dB
REASONS TO BUY
✓An optimized heat sink design with 54 cooling fins lead
✓Easy to install
✓Available in multiple colors
✓Lightweight
REASONS TO AVOID
✗Not include RGB LEDs
Looking to keep your high-end CPU cooled and running smoothly? Look no further than the ARCTIC Freezer 34 eSports DUO Tower CPU Cooler. Its improved heat dissipation capabilities and evenly spread direct-touch heat pipes help to keep your processor running at optimal temperatures. At the same time, its easy installation and secure hold make it a breeze to set up.
Furthermore, this Tower CPU Cooler is designed for gamers and enthusiasts who demand the best performance. The two BioniX P-fans work in push-pull mode to provide optimal airflow, which quickly dissipates the heat from your CPU.
Moreover, the built-in memory and PCIe card cooler keeps your components running cool even under heavy loads. So if you're looking for a cooler that can handle extreme overclocks, then you need the ARCTIC Freezer 34 eSports DUO Tower CPU Cooler.
Bottom Line
This ARCTIC CPU cooler is the perfect choice for gamers and PC enthusiasts. It's compatible with a wide range of Intel and AMD sockets, so you can rest assured that it will fit your system. Plus, its tower design ensures efficient heat dissipation, keeping your system cool even under heavy loads.
We also compare ARCTIC Freezer 34 and Hyper 212 LED and you might be with the results.
11 things to Consider before Purchasing CPU Coolers for Ryzen 5 3600
When looking for a CPU cooler, there are a few things you need to take into consideration. And Of course, your system may require a lot more cooling capacity depending on how hot it runs, but this guide should help you make the right decision the first time around.
1. Compatibility
The first and most important thing to consider is whether your CPU cooler will fit. Ensure you have the right form factor for both your motherboard and case before purchasing a new CPU cooler. Also, consider that some heat sinks, such as water cooling kits, may require additional room in your case to accommodate tubing and other components.
It's also important to take into account the size of the motherboard. Be sure to check what kind of case it is compatible with before you buy a new CPU cooler that may not fit your current case.
2. Size
While this might seem like a no-brainer, not all coolers are the same size. Make sure to consider both the height and length of your CPU cooler, as you could run into space issues.
3. Performance
Depending on what you need your CPU cooler for, you will want to consider the model's performance capabilities you are looking at. For example, if you overclock or plan to do so in the future, higher-performing coolers would be better suited for your needs than lower-performing models.
4. Cooling Capacity
There are two things to consider here – the TDP of your CPU and how hot it runs under full load. The TDP is simply the maximum amount of heat generated by your CPU under full load. The hotter your processor runs, the more cooling capacity you need.
5. Cooling Design
The majority of all coolers in today's market are single-tower designs with a single fan. Some come in a dual-tower design and, in some cases, a triple-tower design for extreme cooling capacity.
All three types use heat pipes to draw heat from your CPU towards the aluminum fins, where the heat can be dispersed into the surrounding airflow. All of the coolers mentioned in this guide are based on multiple tower designs, and some use' direct touch heat pipes,' and others use heat pipe bases.
Single-tower coolers generally provide better cooling than dual or triple-tower designs since they allow for lower air resistance and don't block RAM slots.
Dual-tower coolers have their benefits, mainly aesthetics, and compatibility with tall RAM heatsinks. If you want a triple-tower design, then you're probably looking at liquid cooling anyway – so expect to spend a lot more money on those.
6. Socket Compatibility
Make sure you check the socket compatibility before buying a CPU cooler. If your CPU socket is not listed in the product description, then it's safer to assume that it's not compatible. Similarly, it would be best if you looked for a CPU cooler that fits your socket as well as the TDP of your CPU.
7. Mounting mechanism & Clearance
Check how the cooler is mounted onto the motherboard and what kind of Clearance it provides. Does it block any of your PCI-E or RAM slots? that is especially important if you want to upgrade to a multi-GPU setup in the future.
Most coolers should not obstruct your PCI-E slots, but some may block the first PCI-E x16 slot on motherboards that feature them. Also, check how much Clearance it provides above and below the CPU socket
8. Noise levels & Power Consumption
All coolers listed above are designed to operate quietly, so you don't have to worry about noise being annoying. However, there are sub-variations of the same cooler design depending on whether they are single, dual, or triple-tower coolers. Note that some 'quiet' coolers require more power to run compared to those with higher RPM fans,
So be sure to check the max TDP of your CPU and your power supply unit's maximum capacity.
9. Price & Warranty period
By their very nature, CPU coolers are expensive (with some costing over $100). The better the cooling capacity and design of your cooler, the higher the price. Also, check what kind of warranty they offer – most manufacturers provide three years warranty for their CPU coolers.
10. Installation Method
The two common methods for installing a CPU cooler are pushpins and backplate mounts. Pushpin designs offer a quick and easy installation and do not involve removing your motherboard's backplate.
All you have to do is place the CPU cooler on top of your CPU and push down two pins to secure it in place. However, backplate mounts generally provide a more stable and secure attachment method,
so if you want something that lasts, I'd recommend picking up one with the type of mounting mechanism.
Here's the full guide on How to connect RGB Fans to Motherboard.
11. Other features
Many CPU coolers also include a 'fan controller, which is used to ramp up fan speeds as the CPU load increases. Depending on your motherboard, you can configure it to automatically sense when more cooling capacity is required and adjust fan speeds accordingly.
They may also include lighting features or additional mounting hardware for custom PC cases, or upgraded motherboards that require their own set of accessories.
All of the above CPU coolers are good enough to provide sufficient cooling for your CPU. None of them will be a bottleneck in any modern gaming, video editing, or rendering PC.
Which one you choose is up to you; we hope this guide has helped you make an informed choice based on your budget and requirements.
Also, if you know the difference between 3 pin and 4 pin fan connector that could also help you to find the suitable cooler for your motherboard.
Conclusion
After reading this article, you should have a better idea about the best CPU coolers on the market. The first step is figuring out how much you can afford to spend and choosing between air or liquid cooler. Thankfully, if you don't want to do all the research yourself, we've done it for you. Check out our favorite top 3 picks of best CPU coolers for ryzen 5 3600
We hope you enjoyed this article on the best CPU coolers for Ryzen 5 3600. If you have any questions, please don't hesitate to reach out, and we will do our best to help.
Frequently Asked Questions
What are the Different Types Of CPU Coolers?
There are five main types of CPU coolers: traditional air, closed-loop liquid, closed-loop water, high-performance air, and hybrid (air/liquid) models. These vary in price and effectiveness, so choose what's best for your system based on its components and budget.
What Is The Difference Between Air & Liquid Coolers?
The major difference is that air coolers use fans to dissipate heat. In contrast, liquid coolers use a pump and water (or other coolants) to keep your components at optimal temperatures. That means that air models are far less expensive than their liquid counterparts. You can often find high-performance air coolers for a fraction of the cost of similar liquid models.
What Are The Benefits Of A Liquid Cooler?
The main benefit of liquid cooling is its effectiveness in temperature regulation. If your computer produces too much heat, liquid cooling can help keep it running at optimal speeds. The liquid type of cooler works by using a pump to push coolant through the system, which disperses heat away from the CPU via an attached radiator that transfers heat to case fans
What Is The Difference Between A Single Tower & a Dual Tower CPU Cooler?
The primary difference between single and dual-tower models is that some models are designed to fit only on specific types of motherboards. A single tower cooler is designed to sit on the northbridge chipset. In contrast, a dual or even triple tower model can fit anywhere on your motherboard.
 
Dual and triple tower models are usually meant for higher-end systems. They offer increased cooling performance but take up far more room in your case, so you need to ensure compatibility with other components before investing in this type of cooler.
What Are The Advantages Of A Hybrid Cooler?
A hybrid model also effectively manages your computer's temperature like a liquid cooler. Hybrid cooling systems combine the best parts of air and liquid coolers to create an affordable and effective system.
 
A hybrid CPU cooler typically uses a water block and heatsink similar to that you find on a traditional air cooler but includes a built-in pump that connects tothe radiator via hoses.
How To Clean A CPU Cooler?
Though not necessary, cleaning your CPU cooler is recommended to keep it working optimally. At the very least, you should clean out any dust build-up regularly to help with airflow and cooling efficiency. This process varies depending on your case's airflow, but there are three general steps to take:

1. Disconnect your CPU cooler from the power by unplugging its fan(s), if applicable
2. Remove all fans attached to your CPU cooler and remove dust from heatsink fins with canned air. It is important to note that you should not use a brush or any bristle as this could damage the cooling fins.
3. Install your CPU cooler back into place and connect it with your system.