Modded servers require hours of configuring settings and mixing and matching what mods can work together.
If you're ready to put your Minecraft server out into the world, you might be expecting more hours of work — including finding a server hosting provider to accommodate you.
BisectHosting is one of the best Minecraft server hosting providers I've tried, and it offers impressive flexibility for both Minecraft Java and Bedrock editions.
It's also a website hosting provider that offers features like unlimited domains and unlimited slots depending on the package you choose. But is BisectHosting the answer to your gaming dreams?
Keep reading my BisectHosting review to know everything about it to help you decide if you want to use it for your Minecraft server.
History and Background of BisectHosting
First, let me talk about BisectHosting's background as a company. I'll touch on its initial operation and how it grew to support more games like ARK: Survival Evolved and Stardew Valley.
Founding and Initial Operations
BisectHosting was created in 2011 as a child company of Venture Node LLC.
The founders were Minecraft players that made a server that got big enough that they eventually needed their own hardware.
So, they started their own server hosting company so other Minecraft players could also easily set up their own servers. The company is committed to putting customers and players first, whether you're completely new or a veteran at handling servers.
BisectHosting has a 24/7 customer support team, custom-built tools, and a strong infrastructure for servers.
The founders enjoy a good challenge — which can include learning everything about testing settings, hosting, and getting different mods to work together.
But if you just want something that works, BisectHosting's got your back! They've designed a platform that's easy to use, but still full of features and tools that any expert can take full advantage of.
Evolution and Growth of BisectHosting
BisectHosting's servers all have custom built-in control panels and full mod support. This lets users completely customize their game experience.
Don't worry — their panels are user-friendly, so you'll learn how to navigate them the more you use them.
BisectHosting offers several web hosting services.
Shared hosting
VPS
Dedicated server hosting
Voice servers
The provider has also expanded to support at least ten other games outside of Minecraft. Below are just a few of the bigger titles.
Counter-Strike: Source
Counter-Strike: Global Offensive
Left 4 Dead 2
Stardew Valley
Terraria
ARK: Survival Evolved
Bisecthosting Review: A Comprehensive Analysis
Let's now go to the more in-depth section of this BisectHosting review.
Below, I'll talk about its great service and performance — as well as features that can help you build the best server.
Reliability and Performance
BisectHosting claims to use only NVMe solid-state drives (SSDs) to run all their game servers. Thanks to that, it's sure to get top marks in any vital speed performance-related web metric you throw at it. This is great because it'll let you run a fast server no matter where you are!
Admittedly, the platform has no uptime guarantee. Despite that, I never noticed major oscillations or downtime, regardless of when I was playing. It might not be the same in the following months, but it's an excellent start.
They have multiple server locations worldwide, ensuring you're running a fast server no matter where you're from.
Another thing that makes BisectHosting reliable is its excellent customer service — it's actually one of its major selling points.
The team is made up of experts in gaming servers and modding that can easily help you get your servers up and running.
Whether it's troubleshooting mod conflicts or solving setup issues, their team has likely seen every problem you're likely to encounter.
I love how the people in charge are responsive and respectful. I called them asking for help with frustrating connection issues, and the representative assisting me was patient and graceful while guiding me and helping address my problems.
This "dream team" of customer support is available 24/7 and can be reached through a support ticket and live chat. On top of that, they have an average response time of only 15 minutes!
Features and Benefits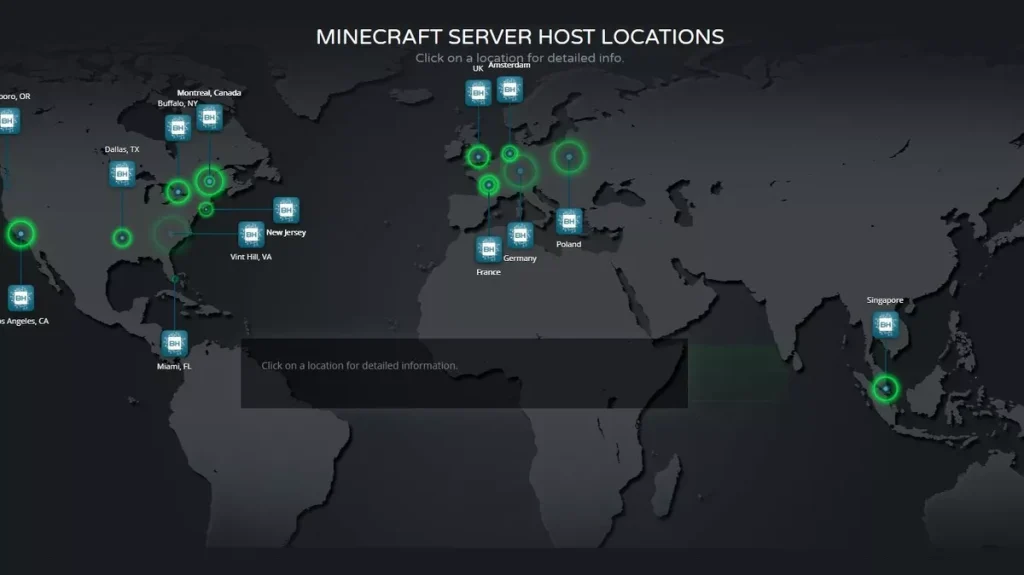 I love BisectHosting because of how easy it is to use!
If you're looking for Minecraft server hosting services, BisectHosting lets you choose between Minecraft Java and Bedrock. However, Java has more pre-designed versions.
After choosing the kind of service you want, choose a plan and check all the details — like the billing cycle, data center location, and other add-ons.
Even the cheapest plan is packed with attractive features, like:
1024MB of RAM
Support for up to 12 slots
Custom JAR support
Full FTP access
Free MySQL
Free subdomain
Free DDoS protection
Another one of BisectHosting's features is instant setup, so you can expect your servers to be ready for use in no time.
The control panel is essentially a highly modified version of MultiCraft, but the features will depend on whether you choose a Budget or Premium plan. The panel should have a plugin directory and full FTP access.
Regardless, you get a user-friendly interface that's easy to pick up and use, even if you've never used any version of MultiCraft before.
Price Value Analysis
BisectHosting offers around 40 different packages— half being "Budget" and the other half being "Premium."
The cheapest Budget plan costs only $2.99 per month. But I'm very impressed that it's jam-packed with features that are essential to Minecraft servers.
Aside from game-focused hosting, BisectHosting also doubles as an internet hosting service. As such, they provide options for anyone who wants to host one (or several) websites.
Shared hosting (starting at $2.99 per month)
VPS (starting at $4 per month)
Dedicated server hosting (starting at $104 per month)
BisectHosting sometimes offers coupons and promotions for its users.
The provider accepts multiple payment methods.
Visa
PayPal
Discover
Apple Pay
Mastercard
American Express
Google Pay
Paysafecard
Admittedly, other providers have more payment methods to choose from. However, those listed above are already good enough for most people.
All hosting packages (except dedicated servers) have a 3-day money-back guarantee.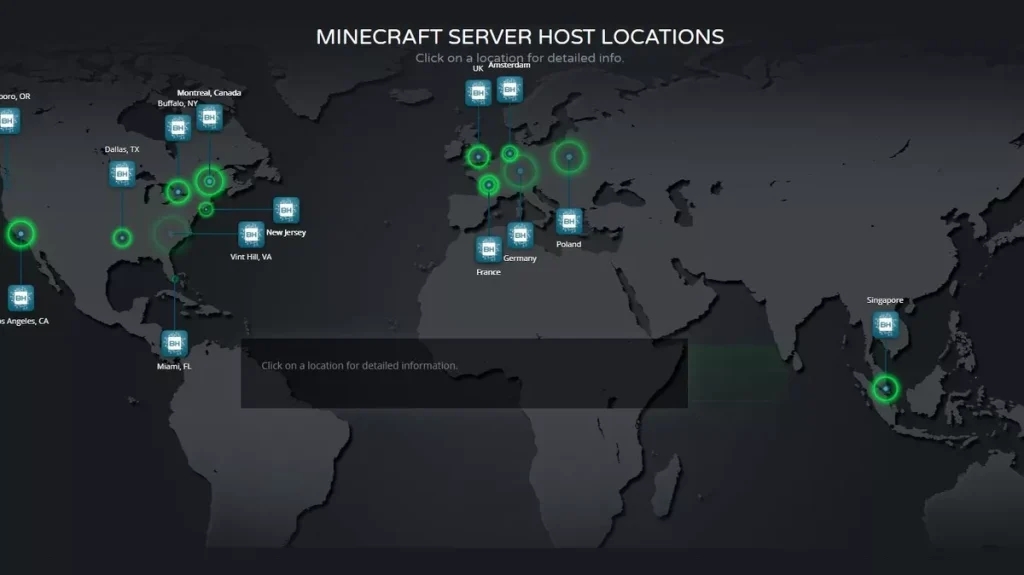 Special Features of BisectHosting
In this part of the BisectHosting review, I'll discuss more about my experience with the server.
Minecraft Hosting Packages
BisectHosting has dozens of the best packages you can choose from, but they're mainly divided into Budget and Premium.
Budget packages are already packed with the essentials.
Instant setup
24/7 customer support
Online file manager
Full FTP access
Custom .jar support
Adjustable player slots
Unlimited disk space
NVMe drives
DDoS protection
Manual modpack installs
Free MySQL database
Free subdomain
Server monitoring plug-in
2+ years of backup
2 slots for manual backups
5 server locations worldwide
Instance manager for 2 instances
On top of that, you can also have paid add-ons for better web hosting and management of mod packs, like:
Automatic modpack installs
Dedicated IP
Automatic daily backups
If you move up a bit, you can expect more perks with the Premium packages. You get everything that comes with their Budget plans — including their add-ons! However, there are a few tweaks.
7 days of automated daily backups
4 slots for manual backups
Instance manager for 5 instances
20 server locations worldwide
Unlimited slots
User-friendly Interface
BisectHosting has a pretty intuitive interface, so even beginners can set up and customize their servers however they want.
If you still need guidance but want to learn independently, you can check the platform's Knowledgebase. The articles are split into 11 categories — from domain management and billing panel to managing game servers.
I appreciated how they're easy to follow since most of them have pictures or video tutorials from BisectHosting's YouTube channel.
Alternatives to BisectHosting
BisectHosting is an excellent Minecraft server hosting provider.
However, other providers out there offer great service too. In this section, I'll compare BisectHosting with other hosts to give you an idea of which provider might be better for your needs.
GGServers is another solid contender for the title "best Minecraft server hosting provider." They're also a feature-rich platform offering SSD/NVMe storage, free MySQL access, and free DDoS protection.
Similar to BisectHosting, GGServers offers long-term subscriptions (like quarterly, semi-annual, and annual billing cycles) that can give discounts. Unfortunately, they aren't the most budget-friendly option.
The platform has an uptime of 99.9%, ensuring your servers are up and running even during peak hours.
GGServers also offers Minecraft server, games, and web hosting services.
Their Multicraft control panel is also highly customized, giving full FTP access to easily upload files to customize your servers.
GGServers' payment methods include VISA, Mastercard, bank transfer, PayPal, American Express, and Discover.
I've also written a separate, more comprehensive analysis of GGservers so you can check its other features.
You may also want to consider other alternatives such as Apex Hosting, which is a great option for creating a game server.
It's actually pretty similar to BisectHosting, although the first thing you might notice is that it's a bit pricier.
That's because the cheapest package on BisectHosting is only $2.99, while Apex Hosting offers $4.49 only for the first month. Succeeding months will cost you $5.99.
However, I liked how Apex Hosting has a longer money-back guarantee.
Another thing I noticed about the platform is that the support team has four divisions:
Login Assistance
Pre-sale
Billing
Technical Support
They also have a free SSL certificate to ensure your safety and privacy from DDoS (Distributed Denial-of-Service) attacks while you're using the platform.
Their payment methods include all major debit/credit cards and PayPal.
ScalaCube
ScalaCube is admittedly not in the same league as BisectHosting and the other hosts I discussed above. However, I'd say that the platform is a good option for beginners.
They offer a number of hosting plans for dedicated servers and website hosting.
ScalaCube is a very affordable server-hosting provider for anyone who just wants to know what running a server feels like. In fact, they have a free plan!
With the free plan, you'll have to pay to invite your friends — but I'd say it's more proof that it's only for those who want to know what running your own servers feels like before opening it up to other players.
The tradeoff is that you don't really get the best quality service, and you might experience some lagging depending on your plan.
They seem to have fewer payment methods than BisectHosting — including only Visa, Mastercard, and PayPal.
Comparative Analysis with Other Hosting Services
There are other hosting services that you may also want to check out.
For instance, at $2.95 monthly, BlueHost offers free domain registration, free SSL certificate, and CDN — which BisectHosting doesn't offer. On top of that, they have great speed performance and no occasional lag issue.
HostGator is another good hosting provider. It offers features like a free SSL certificate, free domain registration, free website transfer, and free script transfer.
ShockByte is also quite similar to BisectHosting in terms of pricing, features, and support. However, I think ShockByte is a bit better regarding overall performance. It has lower latency, higher response time, and lower lag probabilities.
However, BisectHosting is better in terms of backups and unlimited domains.
All of these BisectHosting competitors are worth looking at. But if you're a newcomer who's still not confident in their game server-making skills, then I highly suggest that you have a look at ScalaCube as well for a start.
Reasons for Switching Hosting Providers
After trying multiple server hosting providers, I think no host can provide everything for everyone. Instead, it's a pick-and-choose market that depends on your priorities.
For instance, if you just want to know what it's like to run servers without needing to pay for them, ScalaCube is a good start with its free plan.
But maybe you're thinking of leveling up your servers, and you also want quality service that can help you maintain that. Then you can switch to better servers like BisectHosting, GGServers, and Apex Hosting.
If you're looking for something more specific, like free domain registration and more options for payment methods, then you can narrow your choices even more. In this case, BlueHost and HostGator can be part of your options.
How to Terminate BisectHosting Services?
It's very easy to cancel your BisectHosting server. However, reassess your needs first and see if maybe you'd like to switch plans rather than cancel your current server.
If you're having problems with your server, contact the customer support team for help first.
Otherwise, if you're sure you want to cancel, know that canceling your server permanently deletes all associated data. As such, back up any important information before you do so.
Step-by-Step Guide to Request Cancellation
Once you've backed up all your important data, follow the steps below to cancel your server.
Log into your BisectHosting Client panel.
Click on "Services" on the top menu.
Select "Active" on the server you want to cancel, then click "Submit Cancellation."
Type down the reason for the cancellation. Then, choose the cancellation type.
Click "Submit Cancellation" to finish the process. You'll be redirected to a confirmation page, and BisectHosting will also send you an email.
IMPORTANT NOTE: If you're using a PayPal subscription for your server setup, cancel the subscription on PayPal, or you might incur automatic charges.
Terms and Conditions for Cancellation
BisectHosting's Terms of Service has a specific section for cancellations, refunds, chargebacks, and the 3-day money-back guarantee. Below are a few important points.
You can cancel servers anytime — but you won't receive refunds if you choose the "immediate" cancellation type.
Minecraft, website, and game server hosting services plans all have a 3-day money-back guarantee from when you initially set them up. After 3 days, they're not eligible for a refund anymore.
If BisectHosting initiates the cancellation based on their discretion, any fees you've paid before that cancellation will be repaid to you in full.
Frequently Asked Questions
BisectHosting is a great server hosting provider. If you have more questions about it, keep reading.
What Are Bisect Hosting's Best Features?
BisectHosting has tons of great features.
Here are some of their best features:
Great flexibility thanks to the dozens of plans you can choose from
Excellent customer service
User-friendly interface that even first-timers or non-tech-savvy persons can easily navigate
How Does BisectHosting Compare to Its Competitors in Terms of Price?
BisectHosting offers excellent budget and premium packages at an affordable price.
Admittedly, ScalaCube is cheaper than BisectHosting, offering even a free plan.
However, BisectHosting's packages give more value, so I'd still say they're better.
In fact, the platform's cheapest plan is $2.99 and is already more than enough to manage a great and safe server — from free MySQL to the highly modified Multicraft control panel.
Is BisectHosting User-Friendly for Non-tech-Savvy Individuals?
Yes, BisectHosting is very user-friendly for non-tech-savvy individuals!
The platform has an intuitive control panel that even those who have never used MultiCraft can get the hang of.
You can ask for help from their customer support dream team if you're having trouble with your server. Contact them by messaging their live chat or by sending a support ticket.
They have an average response time of 15 minutes, so you'll get the assistance you need in no time.
Alternatively, BisectHosting's Knowledgebase is great if you want to learn on your own. It's divided into categories, so you can easily find what you need, whether you need help with your billing panel or domain management.
The platform also has a blog and video tutorials on their YouTube channel that can give you additional info on anything you need!
What I love about the blog is that it's categorized into news and games for easier filtering. Their YouTube channel is also divided into playlists per game or event.
How Reliable Are the Servers of BisectHosting?
BisectHosting doesn't mention any uptime guarantee for their Minecraft servers.
However, based on my observations and tests using GTmetrix and UptimeRobot, the platform has a near-perfect score in response time and uptime.
The platform also relies on NVMe SSDs to run its servers, and they have locations all over the world.
Thanks to all that, you won't have trouble running fast servers.
How Can I Cancel My BisectHosting Service?
Canceling your BisectHosting service is a very straightforward process.
Simply log into your BisectHosting Client panel, click on the "Services" icon on the top menu, then follow the instructions.
Canceling your service means all associated data will be permanently deleted as well. As such, back up important data before pushing through with the cancellation.
However, if you use PayPal to pay for your servers, you should cancel the subscription on PayPal.
Conclusion
BisectHosting might just be the answer to your gaming dreams.
Starting as server support for only Minecraft, it now also covers games like ARK: Survival Evolved and Counter-Strike.
BisectHosting offers attractive features that can help you make the best server. These include a free MySQL database, excellent customer service, and unlimited slots.
Admittedly, it doesn't offer as many payment methods as other server hosting service providers, but what it accepts is good enough for most people.
Bisecthosting is great, even if you've never run a server or aren't tech-savvy. You can contact the support team or visit their blog or YouTube channel to get the hang of things.
I hope this BisectHosting review has convinced you to give this server hosting provider a try. I promise you'll create the best server you can dream of!